The Foot Diary no 7. Footy Cast Gets The Boot.
TAXI
A taxicab, also known as a taxi or a cab, is a type of vehicle for hire with a driver, used by a single passenger or small group of passengers, often for a non-shared ride. A taxicab conveys passengers between locations of their choice. This differs from other modes of public transport where the pick-up and drop-off locations are determined by the service provider, not by the passenger, although demand responsive transport and share taxis provide a hybrid bus/taxi mode.
Seven weeks post op and 10 days since my Footy Cast was sawn open and sent to the incinerator. 10 days since the unveiling of the foot, 10 days into a new phase, 10 days of physically hard rehab. Footy Cast was, as I wrote before, smelly sweaty and heavy and I was not sad to be rid of him but he did offer protection and a certain amount of security. His replacement, "BOOTY" ( not the derriere version ) is also heavy, sweaty and clunky but he can be removed at night and at times throughout the day . I only use him when (trying to ) walk but that doesn't mean we have any great relationship. I remove him as much as possible and he stands idle on the floor for most of the time.
Removal of the cast was exciting if a little scary as I had been very uncomfortable and had a lot of discomfort the week before with a burning sensation, awful nerve pains and sore raw skin. Luckily, one of my nursey friends was the person in charge of the saw and did a great job removing Footy Cast, both of us having great laughter along the way. Foot was swollen, hard and a myriad of colours but was free and most of all my surgeon seemed happy. There is more metal in there than I first thought, with, I've been warned, enough screws, staples and metal plates to set off security alerts at any airport. How exciitng. Bionic Granny. Advised by my Surgeon to start serious physiotherapy rehab immediately, I set off, with my new BOOTY to kick ass this rehab, tackle this shocking muscle atrophy, find my lost indentity and get back to being ME.
Looking back over the past 10 days, it seems as if its been longer than 10 days and sometimes I have to remind myself, it is onlyjust over a week since the cast came off. Yes, the tears still fall at times, emotions are still running riot, identity still not refound, the foot can still hurt like hell , especillay after a gruelling physio session or a bit too long without elevation, but there is progress. Its slow but when I stop and think about it, I've achieved a hell of a lot in just over a week. There is now a routine, a purpose to the day, light at the end of the tunnel.
Who would have thought that placing your foot in warm water after 6 weeks would be so wonderful, so liberating, so blissfull, so soothing ? Who would have imagined plunging it into ice cold water immediately after, would be so torturous but envigorating at the same time? Contrast therapy, 2 minutes in hot water, 1 minute in icy cold water. Repeat x 7 times finishing on the ice cold round. Purple foot. 2 basins. Total time = 21 minutes. 2/3 times each day followed immediately by calf stretches and intrinsic muscle exercises, calf stretches, Ankle circles etc . Serious towel drying, scar massaging with lanolin ( don't tell the vegans ) and massge with Peanut oil. Peanut oil ? Yes, peanut oil, wonderful stuff even if you smell like a nut butter oatcake snack after and the dog has taken to sniffing your foot / feet regularly. Suit up. Boot up. Its 9.30am before I know it.
10am and time for "Buddy" Pilates. A friend / client comes to the house and we workout together. Then we have the cuppa and chat. Wonderful. They are missing their regular group session, I need the motivation. I can't drive. Team work. Eternally grateful Teacher. I'm starting to feel like ME again, starting to feel again that I have a purpose, love what I do, do what I love. Today we worked out in the garden, warmth and sunshine, looking up at the approaching clouds and hoping the rain was not going to dampen our outdoor experience. It didn't and was just beautiful. A typical Irish Summer, the May Mediterranean Summer long past but never forgotten. The Gods were good to me in May. Thank you .
Day 1 post Cast removal and getting used to crutches and walking with my boot, very wobbly , balance atrocious, right leg looking withered and old. Surely not mine, someone elses. Pilates lengthenes and defines muscles, my own calves are strong and defined. Surely this skinny flabby withered leg is not mine ? Muscles start to atrify after only 48 hours not being used. A startling reminder of how important movement is and a startling reminder to be appreciative of full ability and mobilty. I have a wonderful Physiotherapist who over the years has not only been my physiotherapist but my psychotherapist, agony Aunt but most of all my dear friend. Unfortunately she herself was in the wars, having suffered a whiplash after a RTA and in need of plenty of TLC . I managed to get a canellation and got an appointment with the Physio recommended by my Surgeon, for that first day post cast removal. Determined to be independent and not relying on others for lifts ( surely friends must be SICK of me after 6 weeks ..) I hailo-ed for a Taxi and my Taxi arrived 5 minutes later. Bag on back, crutches, house key, phone, dosh, dog deewiddled ( my Dad's words to all of us as kids before any journey was "Is everyone De Widdled'? I always loved that one. He referred and still refers to Peas as "widdles", pass the Widdles Please " love that guy ), step out the door, close it and I was on my own, off to Ranelagh with Thomas, the first of many Taxi man I was about to encounter over the next while . A new experience, sitting in the front seat of a taxi. Sitting in the back of a taxi you never feel you have to engage with the driver but sitting in the front with the longer leg room , it seems almost rude not to engage in conversation, however light. By the time I reached the Clinic he was almost signing up for Pilates at his local Studio. The Clinic is on the first floor of a building and up an extremely steep set of stairs equipped with a stairift. After falling, yes falling in the door of the clinic , still only getting used to my crutches and boot with its rocking sole ( think MBT on steroids ) I was rescued by a very personable Aussie Physio who brought me upstairs, securing me into the stair lift and taking hold of my equipment ie Bag and crutches. Bring back my knee scooter. That was just over a week ago and after many taxi rides and conversations with Many Mohammads and guys with lots of y's and z's in their names my eyes and ears have been opened to the wonderfully hard working imigrants who have made Ireland their home over the past 10-20 years. Mohammed A with 2 small kids, whose wife has a law degree but can't practice here yet, He has been in Ireland for 12 years . Mohammed B who works full time as an IT specialist doing long 12 hour shifts and works another 20 hours driving a taxi, who still manages to have quality time with his kids. I learned all about Ramadan and what its like to observe Ramadan when Sunrise is 5 am and Sunset is almost 10 pm . In 10 years time Ramadan will fall in April so the hours of darkness will be longer and the fasting hours shorter. Then there was Mohammed who accidentially closed the window on my finger , ( it was totally my own fault) and was almost crying at the thought that he might have caused me to be in even more pain along with my foot . The finger was not broken but pretty bashed and swollen. Its ok I'm not going to sue. It was totally my fault. The polish guy, married for 34 years, living here with his son, his daughter in law and his grandson, his wife still in Poland holding out for her pension. This same guy had owned a pub and a couple of shops in Poland, a business man who lost everything and came here 16years ago with no English turning his life around , worked as a kitchen porter, then as his English Improved he took other jobs, security, deliveries and then 8 years ago took the Taxi exams . Hard working and decent guys, all of them . Expensive outings to the Physio but very beneficial. Lots of exercises to work on at home. Baby steps, literally.
My blogs may seem very self indulgent but writing for me has always been one of the best forms of therapy and there is something very empowering about putting your thoughts and feelings into words. My idea for writing this blog diary and publishing it, came about after I tried to find information, REAL information, stories etc on what this long journey of post foot surgery rehab REALLY was all about . I searched for videos for post foot surgery exercises and workouts for non weight bearing and set up a Pinterest folder called REHAB and PREHAB to keep focussed . There were some good YouTube exercise videos, but very little information anywhere . All the sound and valuable advice actually came from friends and clients who had been through foot or ankle surgery themselves . I was warned about the pain , the long slow rehab process, the frustrations of non weight bearing, the aches, the ups and the downs. I had hoped in writing my own Foot Surgery diary, It might help others who may be heading into or contemplating similar surgery. I never expected the response I've had. To know that there are people heading into or contemplating similar surgery are reading and benefitting from the diaries makes it all worth while . I even had a lovely message from Martin who runs Mobilitydirect and rents out the knee scooters ."I've been reading your recent blog posts and they are very interesting. I meet a lot of patients but don't get to really see what the recovery process is like on a day to day basis."
By the way I still have'nt sent the Knee Scooter Back . Knee scooter is Still my best friend and although I need to use it less and less, is still the safest and easiest way to get poolside or work in the kitchen, when I need to be hands free. My trusty friend. I really Hate crutches.

My most emotive reaction was from my friend Sean who is a wheelchair user and whom I wrote about in my last blog and his difficulties recently when using the Dart and the frustrations of being a wheelchair user on a daily basis. He phoned after reading the last blog to say how my words about Identity had moved him and my experiences with limited mobility had echoed the feelings of so many of his friends with limited mobility. His lovely comments brought me to tears ( yet again ) We had a chat together last week over a coffee and he is truly an inspiration . His good humour and positive attitude is palpable. I asked directly how he manages to stay so positive and good humoured ( and he is ALWAYS in a good mood ) and his answer was that he lives every day as if its his last. There it is. Exactly as we have all been advised and recommened to do, Live your life to the full,taking each day as it comes and making the most of every day . We could all learn from my friend Sean . I certainly could. Just get on with it. With a smile on his face, he left me some reading material " FEEL THE FEAR , THEN DO IT ANYWAY BY SUSAN JEFFERS PhD....he knows me too well . xx

I have been advised to look on BOOTY as my friend, my new best friend, as he and I will learn over the next four weeks to walk together. I'm trying, its hard and I guess we are warming to each other somewhat. Today I walked a few paces in BOOTY with one crutch. Progress. This morning I stood, barefoot for about a minute, no boot , no crutches, 20% weigh bearing through my operated foot. Progress. On Monday I went swimming with my gorgeous daughter. Not my favourite pool but I could scoot to the poolside and get down the ladder. That feeling of water surrounding me was amazing. My operated foot feeling almost alien and my wasted calf muscle flapping in the water. No boot, no cast, just being ME. Getting out of the pool was interesting but with the encouragement of my daughter, who is well used to working with those with limited mobility, I made it to my scooter. Alleluia, t at the communal showers there was a safety seat for those with limited mobility. Thanks DLRCOCO . Big changing room for me and my scooter too . First swim in 8 weeks. MASSIVE hurdle. 10 lengths with a pull buoy between the legs, no kicking . 10 without, gentle kicks . Tuesday I was sore. Last Monday when I said goodbye to FOOTY CAST none of this was remotely possible .Light . There is light. Not there yet but there are twinkles. Feel the fear and DO IT ANYWAY .Watch out Swim training ....Ill be back soon . Open Sea ..lets be havin ye next !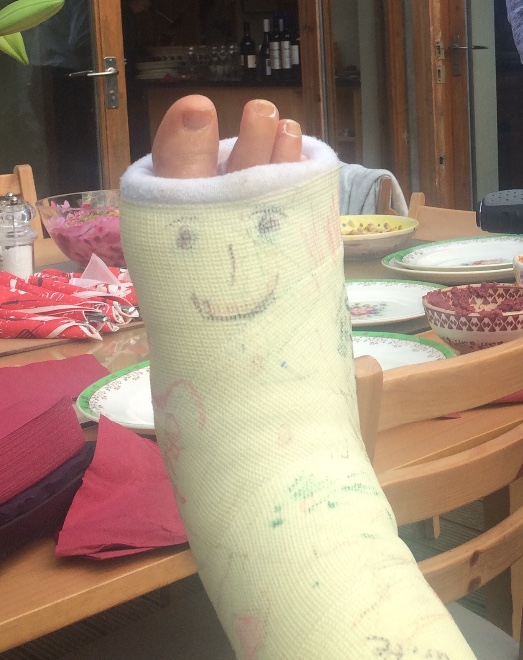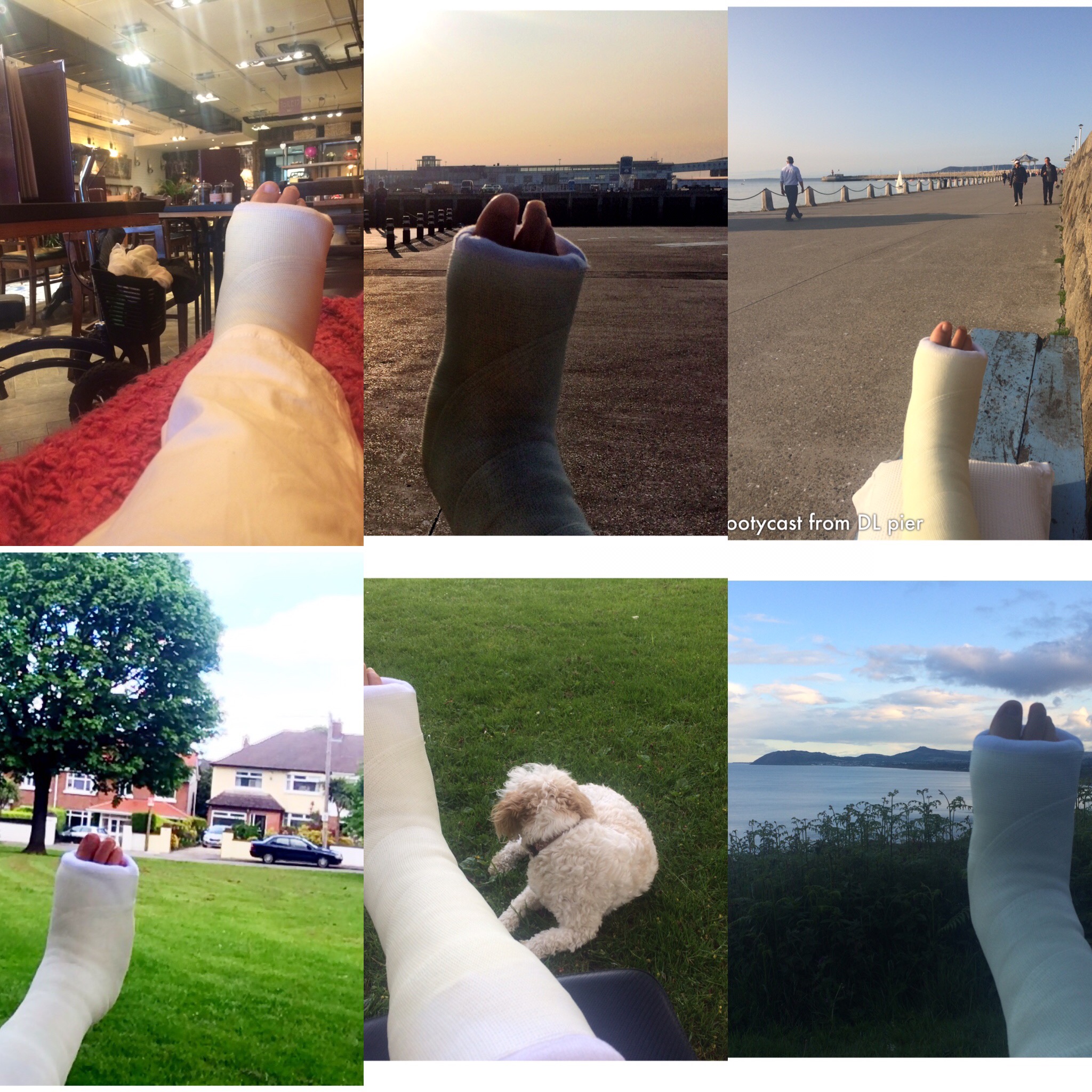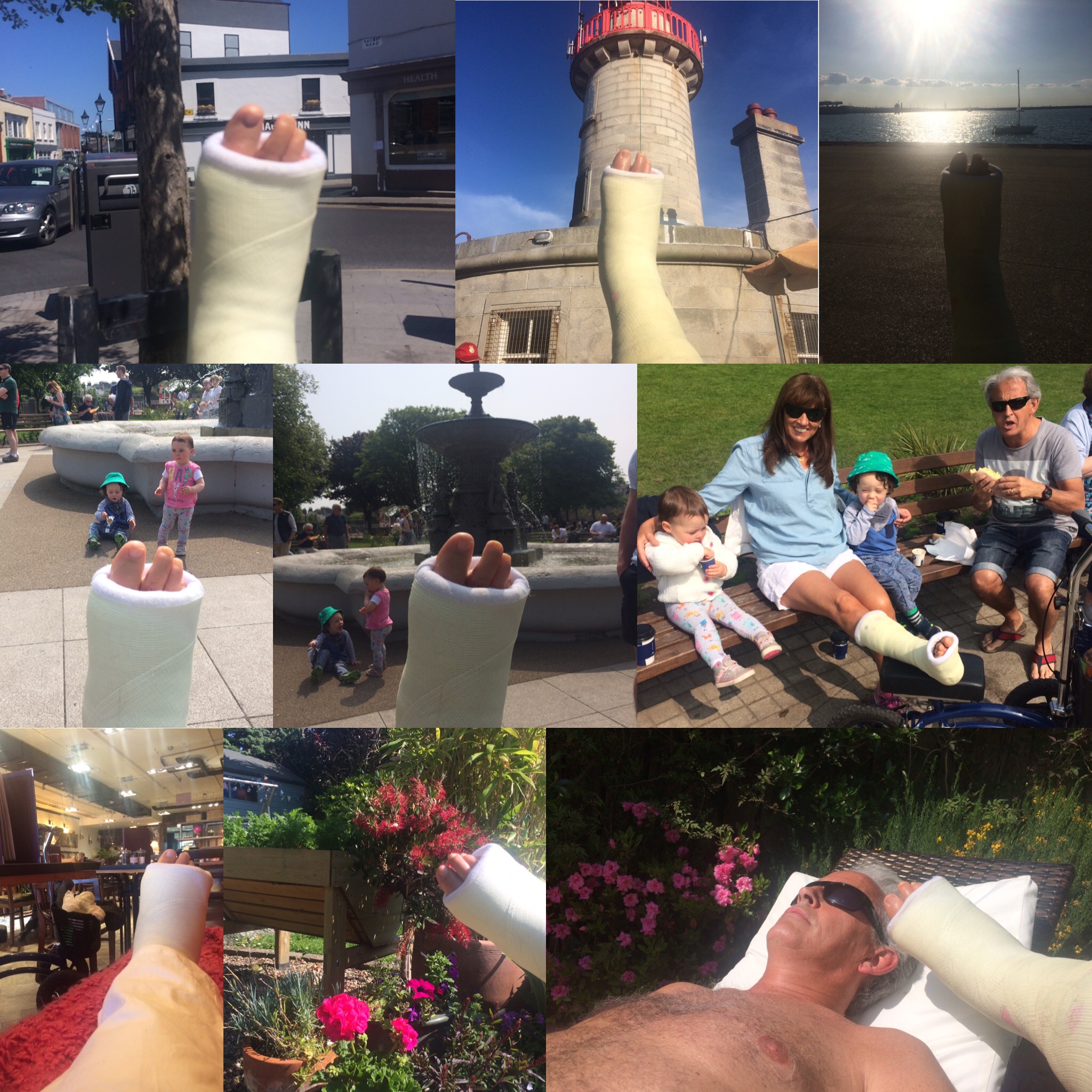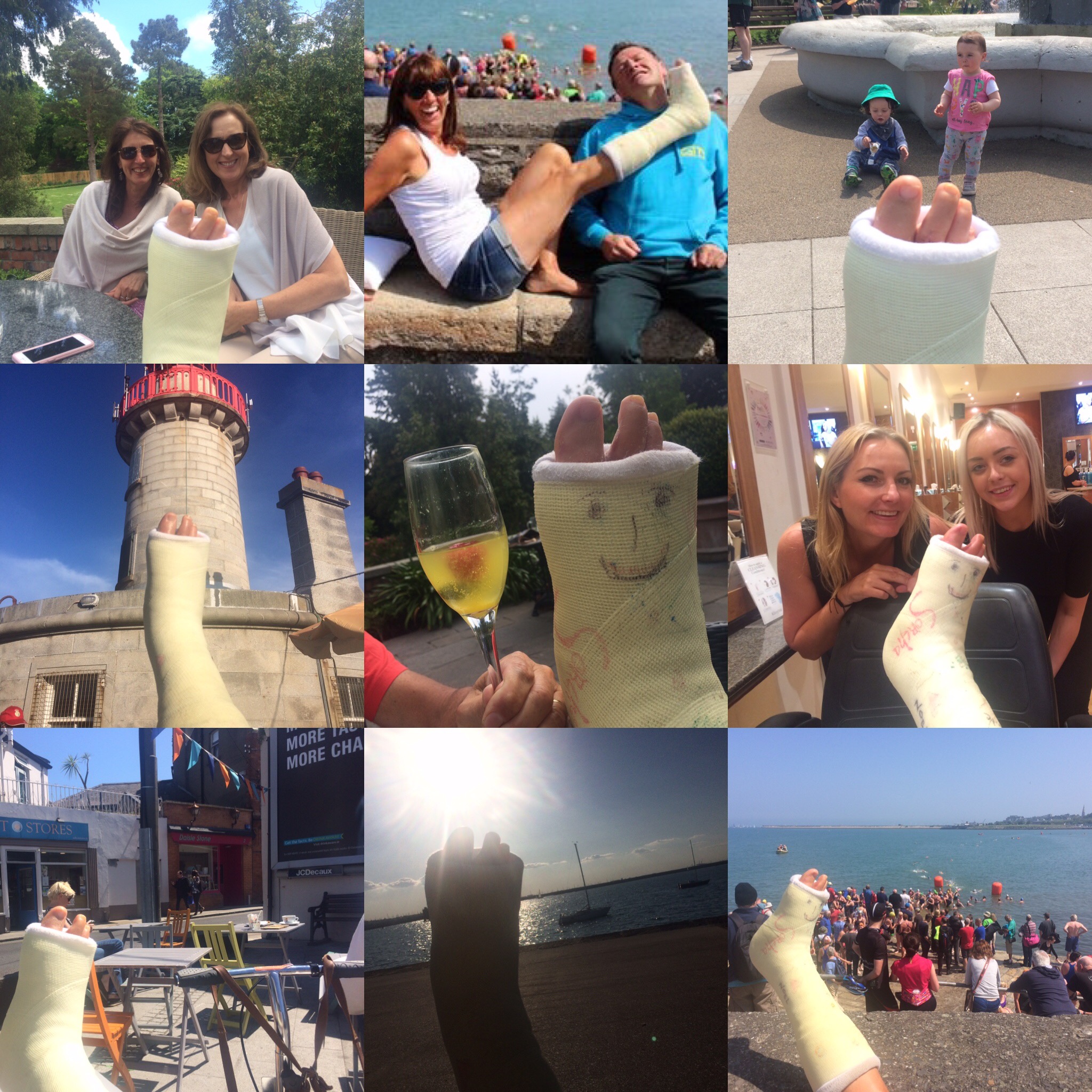 ADVICE FOR THOSE CONTEMPLATING FOOT/ANKKLE RECONSTRUCTIVE SURGERY
RENT A KNEE SCOOTER mobility direct . (Even If you are going to be non weight bearing for the first 2 weeks only ) PRE BOOK
KEEP YOUR LEG/FOOT ELEVATED FOR THE ADVISED 22 OUT OF 24 HOURS for 2 weeks . IT PAYS OFF
ACCEPT YOU HAVE TO REST UP AND DON'T FIGHT IT
TAKE THE PAIN MEDS WHEN NEEDED
DON'T TAKE PAIN MEDS IF YOU DON'T NEED THEM . THEY WRECK YOUR HEAD.
STOCK UP ON GOOD BOOKS DVD'S ETC EMBRACE SOCIAL MEDIA

GIVE A HALL DOOR KEY TO CLOSE FRIENDS. GETTING TO THE DOOR IS NOT EASY.
SAY NO IF YOU ARE NOT UP TO VISITORS
SAY YES IF YOU ARE UP TO VISITORS BUT LET YOUR VISITORS KNOW WHEN YOU NEED TO REST
ORGANISE HELP IN THE HOUSE FOR AT LEAST THE FIRST 2 WEEKS
BUY A GRIP HANDLE FOR THE SHOWER OR A BATH BOARD FOR YOUR BATH.
LEAVE A STOOL IN THE BATHROON TO REST YOUR KNEE ON WHRN BRUSHING TEETH ETC

DON'T REFUSE OFFERS OF HOME HELP OR OFFERS OF FOOD
ADVISE FRIENDS NOT TO BRING CAKES ETC BUT HELP YOU WITH A HOUSEHOLD CHORE INSTEAD
DON'T EXPECT TOO MUCH TOO QUICKLY
THERE WILL BE GOOD DAYS AND AWFUL DAYS,

GETTING OUT (AFTER THE TWO WEEKS ) IS GREAT BUT SHORT TRIPS ONLY AND AVOID CROWDED AREAS
ONCE YOU HAVE YOUR STITCHES OUT AND YOUR CONSULTANT GIVES YOU THE GO AHEAD, START GENTLE EXERCISES, NON WEIGHT BEARING THROUGH THE OPERATED FOOT/LEG . MOVE YOUR ARMS, USE LIGHT HAND WEIGHTS .